Business Briefs
November 30, 2023 at 3:55 p.m.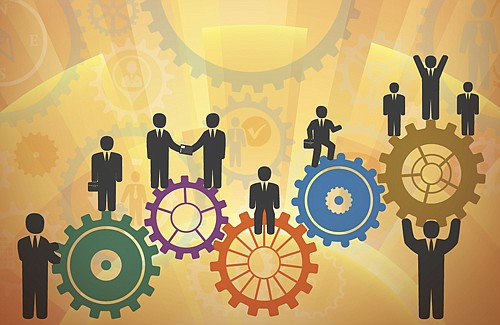 ---
---
Leaders from HCA Florida Englewood Hospital, HCA Florida Fawcett Hospital, and HCA Florida Sarasota Doctors Hospital recently toured All Faiths Food Bank in Sarasota County to learn more about how the organization collects and provides food for the community. The chief executive officers from each hospital also brought along more than 100 pounds of canned goods and a $10,000 donation. Throughout the month of November, caregivers at each local hospital donated canned food and non-perishable items as part of HCA Healthcare's nationwide Healthy Foods for Healthier Tomorrows initiative. Pictured here (l-r): Victoria Hasselbring, All Faiths Food Bank; Bob Meade, CEO HCA Florida Sarasota Doctors Hospital; Joe Rudisill, CEO HCA Florida Englewood Hospital; Michael Ehrat, CEO HCA Florida Fawcett Hospital; Veronica Thames, Board Chair HCA Florida Sarasota Doctors Hospital.
Crews Bank Offers Estate-Planning Seminars
Crews Bank & Trust are offering free estate-planning seminars during December. "Wills & Trusts: Creating and Funding" will be offered on Tuesday, December 5, 10am to 11:30am, at the Englewood Chamber of Commerce, 601 S. Indiana Avenue. Learn the difference between a last will & testament, and a revocable living trust, how each works, and how best to title assets and assign proper beneficiaries. "Out of State Wills & Trusts and Benefits of Florida Residency" will be held on Thursday, December 7, 10am to 11:30am, at the Englewood Chamber of Commerce, 601 S. Indiana Avenue. Learn whether your out of state documents will work in Florida and the benefits of becoming a Floridian. "Selecting a Successor Trustee to Minimize Stress on Family" will be offered on Wednesday, December 13, 10am to 11:30am, at the Gulf Cove Crews Bank, 12651 McCall Road, Port Charlotte. Deciding who is best to serve as administrator in a power of attorney, will, trust, and health care directive is extremely important. Explore the skills, abilities, experience & time these roles demand. These seminars are also offered at other times and locations. Registration is available at any Crews Bank & Trust branch office, online at crews.bank, via email at [email protected] or by calling Trust Operations Associate Linda Ferrara at 941•624•1943. 
Tibbetts Lumber celebrated their grand opening on November 16th which included a ribbon cutting by the Englewood Chamber of Commerce. Tibbetts Lumber was founded in 1949 and now has multiple locations in Florida and is posed to expand into Alabama & Mississippi. Products include building materials, decking, doors, trusses, rebar, insulation board, lumber, millwork/moulding, paint, windows, insulation board, siding, locksets, and more. Tibbetts Lumber is located at 505 Paul Morris Drive and can be reached at 941•474•9215. Hours of operation are Monday through Friday, 7am to 5pm, and closed Saturday and Sunday. Website is tibbettslumber.com. Pictured here are Tibbetts Lumber employees and Chamber representatives. Cutting the ribbon are Russell Hallenbeck, CEO (in white shirt); Kyle Hooker, Executive Chairman (holding scissors); and Chris Blanchard, Operations Manager (in gray shirt holding ribbon). Chamber representatives holding ribbon are Doug Izzo and Erin Halstead on the far left and Lee Ann Sciutto and Shane Whitmore on the far right.
Small Business Owners Roundtable
SCORE Manasota presents a Small Business Owners Roundtable series starting in December. Attendees will benefit from peer-to-peer learning and a networking opportunity, get input from other small business owners about your current challenges, discuss issues facing small business owners today, and learn what has worked for others, while sharing your success methods. There is no charge. All sessions are Zoom meetings and scheduled for one hour. The December session is offered on Tuesday, December 5 at 8am, noon, and 7pm. Upon registering for one of the sessions, you will receive the Zoom link. Sessions are facilitated by trained SCORE mentors. Register at score.org/manasota under events.
---
Hurricane Ian caused substantial damage to The Waverly Restaurant & Bar, but now the restaurant is finished with its renovations, and you will love the make-over! Make your reservation today for a finer dining experience with some menu updates. The bar has been relocated to the south side of the upstairs dining room and now offers a sushi bar. The drop ceilings have been replaced with a high ceiling and the full-length windows give you a spectacular view of the beach. The kitchen is all new and state of the art. The banquet room has also been completely redone and now has a full-service bar. Downstairs, The Waves has extended seating with a landscaped area, "The Gardens", under cover. You can order from the Tiki Bar menu or the regular menu to take advantage of dining outside. Enjoy live music Thursday through Sunday evenings. Hours of operation are Sunday through Thursday, 11am to 9:30pm and Friday and Saturday, 11am to 10pm. The Waverly is located at 2095 N. Beach Road. Visit them at thewaverlyfl.com or call 941•475•3500. On November 2nd, The Waverly celebrated its grand reopening with a ribbon-cutting by the Englewood Chamber of Commerce. Here, co-owner Jill Hemmes and general manager Tracy Warren cut the ribbon held by Doug Izzo, chamber CEO (on left) and Shane Whitmore, chamber representative (on right).
---
Englewood Hospital Earns Another "A"
HCA Florida Englewood Hospital is only one of two hospitals in the state of Florida to have received 23 straight A's for hospital safety from The Leapfrog Group, a national nonprofit upholding the standards for excellence in patient care. This national distinction celebrates Englewood Hospital's achievements in prioritizing patient safety by protecting patients from preventable harm and errors. "Twenty-three straight A's for patient safety reflects the dedication of our physicians, nurses and colleagues who show up for our patients with exceptional care every day," said Chief Executive Officer Joe Rudisill. The Leapfrog Hospital Safety Grade is the only hospital ratings program exclusively based on hospital prevention of medical errors, infections, and injuries. The Leapfrog Hospital Safety Grade is peer-reviewed, fully transparent, and free to the public. Grades are updated twice annually in the fall and spring. To see Englewood Hospital's entire grade details and to access patient tips for staying safe in the hospital, visit HospitalSafetyGrade.org. 
---
EPIC Community Resource Center of Englewood celebrated their grand opening on November 1st with a ribbon-cutting ceremony by the Englewood Chamber of Commerce. The community resource center, located at 655 N. Indiana Avenue, focuses on meeting the physical, emotional, and spiritual needs of the Englewood community through partnerships with various area organizations and resource sources. Visit them online at epiccommunitycenter.org, call 941•460•6022, or drop in for a visit. After president Ronnie Jackson cut the ribbon, there were cheers all around for this new resource hub for Englewood.
---
New Crews Bank & Trust App
Crews Bank & Trust, previously a three-location banking brand with branches in Arcadia and Sarasota,expanded to more than 19 locations following a unification with its sister banks, Wauchula State Bank, Charlotte State Bank & Trust and Englewood Bank & Trust, on September 25th. Upon unification, customers were encouraged to update to the new Crews Bank & Trust app. This app offers the ability to pay bills, transfer money between accounts and bank at the customer's convenience, and a secure messaging portal. Also offered is online account opening through their OpenAnywhere technology as well as online applications for mortgages and home equity lines of credit. For those looking to transfer money person-to-person, Zelle® is offered. To download the app, go to Google Play for Android or the Apple App store for Crews Bank. For questions, call 888•406•2220.
Colleagues of HCA Florida Englewood Hospital organized a "Healthy Food for Healthier Tomorrows" food drive to benefit the food pantry at St. David's Jubilee Center. In just two weeks, hospital caregivers collected more than 900 pounds of canned vegetables, soups, pasta, and other non-perishable items, equaling a total of 750 individual meals. In addition, the hospital also packed several boxes of food to fill the home pantries of coworkers who requested food support as well. "Englewood Hospital partnered with members of the Lemon Bay Sunrise Rotary Club to transport the donated food to St. David's Jubilee," said Doug Izzo, Executive Director, Englewood Florida Chamber of Commerce, Englewood Hospital Board of Trustee member and member of the Lemon Bay Sunrise Rotary Club. "The hurricane has expanded food insecurity in our region and the need for assistance from our food pantries." Photo: Hospital colleagues gathered around a food sculpture of a slice of pie assembled with cans from the more than 900lbs of canned goods collected in the food drive.
---
HCA Florida Englewood Hospital CEO, Joe Rudisill, and a team of women caregivers donned hard hats & gloves and swung hammers to help build a single-family home for a family in North Port during Women Build Week. The event, hosted by Habitat for Humanity South Sarasota County, is a unique opportunity for women to get on the construction site and learn new skills while helping to address the community's affordable housing crisis. The group installed windows, doors, and furring strips for the 3-bedroom, 2-bathroom home. The future homeowner worked alongside the team of volunteers, helping her along the path to homeownership. Englewood Hospital also presented a check for $5,000 to Habitat for Humanity of South Sarasota County to support their efforts to build a stronger, safer community.
---
Englewood Chamber of Commerce representatives were on hand for the groundbreaking ceremony on October 31st for Cabana Bay RV Resort by Boca Grande, located at the intersection of Rotonda Blvd. East and Gasparilla Road. The RV resort will offer 170 sites with water & sewer hook-up, community pool, clubhouse, pickle ball courts, dog park, laundry facilities, golf cart rental services, and more. The RV resort will be for short term rentals, from three nights to six months. Cabana Bay anticipates opening in Spring, 2024. To learn more, visit cabanabayrvresort.com.