Englewood Bank & Trust is collection point for Food for the Troops drive
September 8, 2023 at 5:04 p.m.
---
---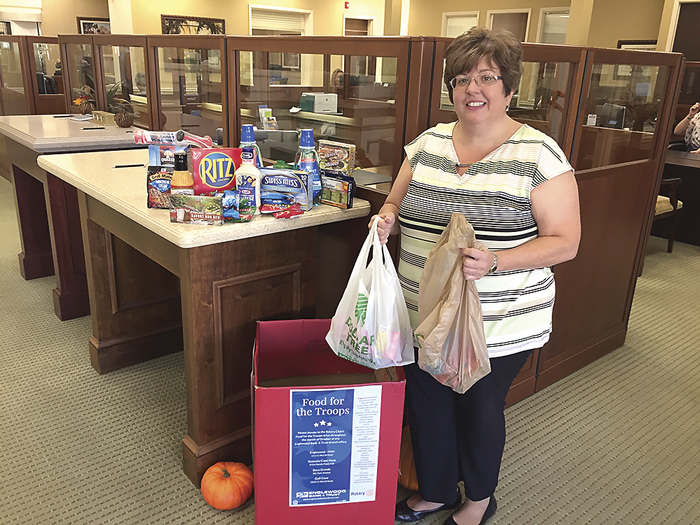 Receiving a care package can be a real morale booster for those serving in the military. Englewood Bank & Trust is once again serving as a collection point for the Rotary Club of Englewood's Food for the Troops drive. Customers and residents in the Englewood area are encouraged to bring nonperishable food and personal care items to any of the following Englewood Bank & Trust offices from September 11 through October 23: Cape Haze office, 8725 Placida Road #10; Gulf Cove office, 12651 S. McCall Road, and Boca Grande office, 301 Park Avenue. "We have been involved with this Rotary initiative for a number of years," said Market President Joe Cataldo, "and it's always gratifying to observe how people open their hearts to our men and women in uniform." Lists of needed items are posted in the bank lobbies, and include some of the following items: instant drink mixes (hot & cold), tuna in pouches, ramen noodles, spices, salad dressing (no glass), beef jerky, nuts, trail mix, granola, protein bars, crackers, cookies, candy (no chocolate), gum, instant oatmeal, snacks, deodorant, disposable razors, aspirin, chapstick, shampoo, eye drops, medicated foot powder, hand-held games, cards, nerf balls, sudoku & word puzzles, and batteries (AA, AAA, D). For questions, call 941•475•6771. Photo: Kristina Watts, VP Business Relationship Banker, bags food for the troops.