Sandra Ledgett Hahn
September 19, 2023 at 1:23 p.m.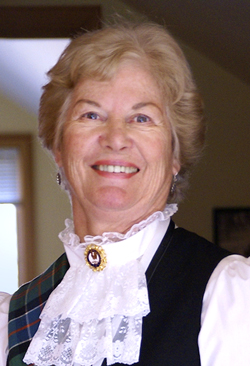 Sandra Ledgett Hahn, 83, an Englewood resident for 20+ years passed away peacefully on September 7, 2023 after a several years of illness.
Sandra was born to Lowell and Catharine Ledgett on April 9, 1940 in Ridgewood, NJ. She grew up as the feisty middle child between her older and younger brothers. Sandra had a quick wit, spoke her mind, had a quirky sense of humor, a wonderfully loud laugh and a warm and loving heart.
Sandra graduated from Ridgewood High School in 1958 and The University of North Carolina, Chapel Hill class of 1962 with a BA in chemistry.
After college Sandra worked as a fashion buyer in New York City,  and then joined Northeast Airlines ('The Yellow Birds') as a flight attendant based in Boston, MA. She later moved to Hyannis, MA as Chief Stewardess for Air New England. She left the airlines and joined a Cape Cod bank where she met her husband of 52 years, Dane F. Hahn Jr..
The two married in 1971 and moved to Connecticut where their first child was born, (Marcie) and then to New Jersey where their second child was born, (Mandie). Corporate moves took them to Chicago and then a return to New England where they ultimately settled in Exeter, NH.
While in New Hampshire, the Hahn's owned and operated Exit 11 Real Estate in Stratham, NH, and several dry cleaners (EuroCleaners) in Stratham and Lee, NH. In 2002 the Hahn's discovered Englewood, FL and purchased a home in Englewood Isles. They split their time between Florida and New Hampshire for some years before moving to Florida full time.
Sandra served as a longtime member of the Junior League. In addition, she was extremely proud of her service in the US Coast Guard Auxiliary, having served as Flotilla Vice Commander and Flotilla Commander, filled a number of Staff Officer Positions and she also served on the Coast Guard Auxiliary National Staff. In addition, she spent many years volunteering at the Englewood Methodist Church. Sandra had a special love for her Scottish heritage and she was a talented flower gardener, creating gorgeous and welcoming landscapes at each of the Hahn's homes through the years. She was a caring mother, dear friend and loving wife and she will be greatly missed.
There will be a celebration of Sandra's life later this autumn.
Sandra is survived by her husband Dane Hahn; her daughter Marcie Knoff (Eric) (Bozeman, MT); her daughter Mandie Desroches (Derek) and grandchildren Tobey and Brooke (Nottingham, NH); her two brothers Doug Ledgett (Donna) and Ronald Ledgett (Paula); and numerous cousins, nieces, nephews and several beloved grand-dogs.
In lieu of flowers, memorial donations in Sandra's name may be made to the National Kidney Foundation (kidney.org) or the animal shelter of your choice.