Around The Town
September 22, 2023 at 12:24 p.m.
---
---
Food & Wine Festival
Sarasota Opera's Annual Food & Wine Festival returns on Saturday, September 23 from 1 to 4pm at the Opera House, 61 N. Pineapple Avenue, Sarasota. Local restaurants, including Michael's On East, Tsunami Sushi, Mattison's, Selva Grill, Molly's Pub and Shore, will offer tasty bites, wine, and other treats. The Youth Opera Chorus will perform during the event. Raffles of gift cards & opera tickets. Tickets are $75 and can be purchased online at sarasotaopera.org or by calling 941•328•1300. 
Bay Fest Event
The Sarasota Bay Estuary Program and Sarasota County present "Bay Fest, Exploring Our Underwater Worlds" on Saturday, September 23, 10am to 2pm, at Sarasota Sailing Squadron, 1717 Ken Thompson Pkwy., Sarasota. This free event will be filled with discovery & endless fun for the whole family with marine life exhibits, kayak tours, nature tours, live music, and food trucks. Visit sarasotabay.org to learn more.
Wedding & Event Expo
The Southwest Wedding & Event Expo will be held on Sunday, September 24, starting at noon, at the Charlotte Harbor Event & Conference Center, 75 Taylor Street, Punta Gorda. This bridal show will feature many of SW Florida's premier wedding vendors & venues and models wearing exciting bridal wear & tuxedos. You will see DJ,s & entertainers, caterers, hair & makeup stylists, cake artists, photographers, wedding planners, jewelry, and much more. Plus, door prizes (must be present to claim prize), a photo booth, and food. Learn more at southwestweddingexpo.com.
Low-Maintenance Landscaping
Learn about flexible, drought-tolerant plants you can add to your landscape to help you cut down on your yardwork in a free webinar offered by UF/IFAS Extension, Sarasota County. You will also be introduced to some gardening techniques that will help your plants need less water and resources over time. The webinar will run from 10 to 11am on Monday, September 25. Register for this free event at ufsarasotaext.eventbrite.com. For questions, call 941•315•5066.
Discover Dearborn
The September "Discover Dearborn" event is Tuesday, September 26 from 4 to 7pm. Take advantage of this opportunity to stroll around West Dearborn Street and see what makes the shops & restaurants an eclectic hangout. There will be music, raffles, food, and fun. Be part of the growing community of those that Discover Dearborn! You can follow Discover Dearborn on Facebook.
Community Sculpture Dedication
Leadership Englewood Class of 2023, with the support of the Englewood community, is excited to announce that the reveal/dedication of their class project, the community Hurricane Ian Resilience Sculpture, will be at 4pm on Thursday, September 28, the one-year anniversary of Hurricane Ian. The sculpture, representing the resilience of the Englewood community after Hurricane Ian, will stand in front of the main pavilion at Englewood Beach, 2100 N. Beach Road. The sculpture's artist, Dominique Martinez of Rustic Steel Creations in Tampa, incorporated some of the debris from the three clean-ups the class held to remove debris from area waterways. The public is invited to attend the dedication. The Englewood Drum Circle will play from 3:30 to 4pm. Those who ordered a replica of their resilience brick can pick up their replica between 3-4pm. Over 200 inscribed bricks will be placed to create the Wall of Resilience. The dedication at 4pm will include a proclamation by the Charlotte County Commissioners. Come out and celebrate Englewood's resilience!
Retirement Planning Seminar
The Society for Financial Awareness, a 501(c)3 non-profit organization, is offering a course on "The Changing World of Retirement Planning". The course will be held at Suncoast Technical College in North Port as a two-day class on Thursdays, September 28 & October 5, 6 to 9pm, or a one-day class on Saturday, October 7, 9am to 2pm. The course will cover retiring in the 21st century, tax rate risk, retirement distribution planning, estate planning, maximizing social security, retirement distribution pitfalls, mitigating market loss, and long-term care planning. Registration and two-workbook set are provided at no cost. Learn more and register online at enrolltoday.education/22889. For questions, call 941•888•0864. Suncoast Technical College is located at 4445 Career Lane, North Port. Meet in room 119.
Comedy for a Cause
Don't miss the 11th Annual "Comedy for A Cause" on Friday, September 29, 6 to 9pm, at the Charlotte Harbor Event & Conference Center, 75 Taylor Street, Punta Gorda. It's the funniest fundraiser around and it benefits Charlotte Players. Enjoy a delicious dinner while local business celebs entertain with side-splitting improvisational antics. The online auction runs September 25-29, ending at 8pm during the event. Tickets may be purchased at the door for $75. Visit charlotteplayers.org for more information or call 941•255•1022.
Senior Show & Tell
The last program in the Senior Show & Tell series through Charlotte County Community Services will cover social media. The program will be held on Saturday, September 30, 9 to 10:30am, at Harold Avenue Regional Park located at 23400 Harold Avenue, Port Charlotte. Registration deadline: September 28. For more information and registration, call 941•627•1074. 
Chocolate Fest
Chocolate lovers – don't miss this event on Saturday, September 30, noon to 2pm, when the Sixth Annual Chocolate Fest returns to the Port Charlotte Town Center, 1441 Tamiami Trail, Port Charlotte. Your $15 admission includes a to-go gift box that you can fill with an assortment of delicious hand-crafted chocolate confections & specialty creations donated by local restaurants, country clubs, & bakeries. All funds raised benefit the Children's Cancer Center. Host: Advocate Radiation Oncology. Prepay online at chocolatefest23.givesmart.com.You can also pay at the door.
Venice Beach Party
Come to Venice Beach for the Venice Beach Party on Saturday, September 30. Hosted by Venice MainStreet, the party runs from 3 to 8pm. Scheduled entertainment is "Sarasota Steel Pan Band", "Flip Flop Dave", and "Beach Bumz". Food trucks will also be onsite. Venice Beach is located at 101 The Esplanade South, Venice. Go to VisitVeniceFL.org for more information.
FantaSea Fishing Tournament
Join the Charlotte County Sheriff's Office for a night of dinner, dancing, music, FantaSea Fishing, silent auctions, fun, prizes, and more at the FantaSea Fishing Tournament on Saturday, September 30, starting at 5 pm. The event will be held at TT's Tiki Bar, 33 Tamiami Trail, Punta Gorda. Cash bar. Ticket price is $50 single/$90 couple and may be purchased at any CCSO District Office. The CCSO office in Englewood is located at 11051 Willmington Blvd. FantaSea Fishing starts at 7 pm and the top prize is $1,500 (note: this is a "Fantasy" tournament, and you will be "fishing" in kiddie pools for toy fish). For questions, please call 941•575•5252.
Anger Fishing Pier Closed
The Anger Fishing Pier at 1385 Beach Road closed for revetment repairs on September 18th. Revetment is a retaining wall that protects and absorbs the energy of incoming water to protect it from erosion. The project is anticipated to be completed in 60 days.
Beach No Smoking Ordinance
Sarasota County has adopted a no smoking policy that applies to all Sarasota County public beaches and parks, effective Sunday, October 1. Ordinance 2023-01 amending Chapter 90, Article II of the County Code, was passed 4 to 1 by the County Board of Commissioners in July. Sarasota County staff is working to update all park signage. Parks, Recreation and Natural Resources Director Nicole Rissler said, "This ordinance promotes healthy recreation while reducing second-hand smoke and cigarette litter that could harm people and wildlife or end up in our waterways." For more information, visit scgov.net or call 311.
Englewood Free Bike Clinic
Come repair your bike with assistance from maintenance advisors on the first Tuesday of every month from 10am to noon at The Jubilee Center at St. David's, 401 S. Broadway. This service is free and repair options include fixing flat tires, brake pad replacements, broken spokes/bent wheels, shifter adjustments, and more. Tools and parts are provided upon request. Tuesday, October 3 is the date for the October clinic. This program is an outreach of the Community Health Action Team (CHAT) of the Florida Department of Health in Sarasota County.
Englewood Farmers Market to Start Season
The Englewood Farmers Market reopens for its 2023/24 season on Thursday, October 5. This popular Thursday tradition for those seeking fresh produce, baked goods, herbs, seafood, meats, ready to eat foods, and sauces, as well as other goods such as jewelry, essential oils, knife sharpening, and live plants, is located at Pioneer Plaza, 325 W. Dearborn Street from 9am to 1pm every Thursday from October through May. More than 90% of the vendors are returning from last year. There will also be live music on the Dignam Family Stage. Keep up to date by following the Englewood Farmers Market on Facebook or visit englewoodfarmersmarket.org.
Englewood Fire District Open House
Fire Prevention Week is October 8-14, and the Englewood Area Fire Control District is kicking off the week with a Fire Prevention Open House and 40th Anniversary Celebration on Saturday, October 7, 9am to noon. There will be safety demonstrations, games & prizes, refreshments, and a FFSA fire sprinkler demonstration. You can also tour fire engines and spray a fire hose. The fun takes place at the Englewood Fire Training Center at 13400 Haligan Way, off South River Road. For questions, call 941•474•3311.
Rummage Sale
St. Vincent DePaul is holding a rummage sale on Saturday, October 7 from 9am to noon at its office located at 25200 Airport Road (corner of Taylor Road) in Punta Gorda. Shop for household items, furniture, linens, clothing, shoes, purses, jewelry, books, toys, and more. No pets, please. Rain date is Saturday, October 14. For questions, call 941•575•0767.
Cruisin' on Dearborn
"Cruisin on Dearborn," a gathering of people and their classic cars, is still the place to be on the first Saturday of the month from 2 to 8 pm. Anyone with a classic car or a love of cars is invited to this free event. Saturday, October 7th is the next Cruise In. Enjoy music to cruise by and music trivia sponsored by the Old Englewood Village Association. Don't forget to visit the businesses that are open for your shopping pleasure and stop by the broadcast booth to get your raffle tickets for prizes.
Wilderness First Aid Course
Conservation Foundation of the Gulf Coast invites the public to register for an upcoming Wilderness First Aid and CPR certification course. The three-day training will occur from 8:30am to 5pm on Monday-Wednesday, October 9-11 at Bay Preserve Headquarters, 400 Palmetto Avenue in Osprey. The course will be facilitated by SOLO Wilderness Medicine instructor, Catherine Jean, and focuses on improvising with limited resources in remote and wilderness emergency situations. The three-day course will cover topics such as recognizing and effectively managing a medical emergency, treating various injuries, bleeding and infection control, splinting fractures, and handling environmental emergencies such as heat exhaustion, lightning strikes, drowning, snake bites, and more. Course registration is $350 per person. Upon completion, participants will receive nationally recognized SOLO WFA and CPR certification cards valid for two years. This course also serves as a WFR recertification for SOLO WFRs. Registration is open to those aged 13 and up (Participants under 16 must attend with a parent or guardian). Space is limited and registration is required. To learn more and register, visit conservationfoundation.com/events.

Mark your calendar for Tuesday, October 10 and be a part of the Welcome Home Veterans celebration at the Punta Gorda Airport when the SW Florida Honor Flight returns home from Washington, DC. The chartered Allegiant flight is expected to arrive between 8:30-9pm and the public is invited to join in and give these returning veterans the welcome home that many never received. Dress in patriotic colors and carry Welcome Home signs to give these US Veterans a big thank-you for their service. This Honor Flight mission is special, as it focuses on women veterans and between 36-40 female veterans will be on the flight. SW Florida Honor Flight for veterans is a one-day trip to the nation's capital to be honored at "their" memorials. This Honor Flight's activities include an additional memorial stop - the Women's Memorial near the entrance to Arlington National Ceremony. There will be 186 individuals on board as each veteran travels with a companion to make sure the veteran's every need is met during the trip. Any veteran, both combat and non-combat, is eligible for Honor Flight. There is no charge to the veteran. Preference is given to WWII, Korean, and Vietnam veterans and veterans facing a terminal illness. Companions are volunteers or family members who pay a portion of the cost to escort the veterans. SW Florida Honor Flight is operated entirely by volunteers and funded by donations. If you would like to help send the country's veterans on the next flight, donations may be mailed to SWFL Honor Flight, PO Box 495065, Port Charlotte, FL 33949. Learn more about SW Florida Honor Flight at swflhonorflight.org. Pictured here is the group on the May SWFL Honor Flight.
---
Mangrove Trimming Workshop
UF/IFAS Extension Florida Sea Grant Charlotte County, in collaboration with UF/IFAS Lee County, will offer a mangrove trimming best practices course from 9am to noon, Wednesday, October 11 at Cedar Point Environmental Park, 2300 Placida Road. The course will cover mangrove ecology and identification, mangrove trimming regulations, and demonstration of best pruning practices. Continuing Education Units are available upon completion of the course. Mangroves are a vital part of tropical and subtropical shorelines. They reduce erosion, provide nursery habitat for many ecologically significant species, and increase water quality. As such, there are many regulations in place regarding their maintenance and pruning. The fee is $25 (waived for land management and natural resources professionals). Register online attinyurl.com/bdpwdvan. Space limited.
Plant Sale & EdFest
Looking to start or add to your garden? Save the date for the UF/IFAS Extension Sarasota County 17th annual Plant Sale and EdFest on Saturday, October 14, starting at 8:30am. This free, family-friendly, fall gardening event features sustainable gardening education, landscape problem diagnosis, and thousands of plants for sale, plus an open house that highlights all UF/IFAS Extension Sarasota County has to offer. The sale will be held at the extension office located in Twin Lakes Park, 6700 Clark Road, Sarasota. Bring boxes or a wagon for your plants. Plant prices vary/ payment by cash or check only. Proceeds from the sale benefit the Master Gardeners Chapter of the Friends of Sarasota County Parks, which supports Master Gardener Volunteer education outreach programs in Sarasota County. For questions, call 941•861•5000.
Block Party/Cornhole Tournament
The Fourth Annual Block Party and Corn Hole Tournament is set for Saturday, October 14 at Treasure Lanes, 1059 Tamiami Trail, Port Charlotte. There will be food trucks, music, yard games, a kids' corner, basket raffles, and of course, the cornhole tournament. The party runs from 1 to 7pm. Check-in for the cornhole tournament is 1pm and the tournament kicks off at 2pm. $40 per team; $20 per person. Tickets for the basket raffles are $10 for one and $25 for three tickets. Entry forms and raffle tickets may be picked up at Treasure Lanes. Miranda Burpee, the event organizer, holds this fundraiser to benefit Dollars for Mammograms in honor of her mother, who passed away nine years ago from stage four breast cancer.
Burgerfest in Paradise Cook-Off 
Who will be the 2023 winner for the Best Burger in Paradise? Find out on Saturday, October 21 when local teams heat up their grills and cook their best burgers for the championship at Pioneer Plaza, 300 W. Dearborn Street. Teams will provide "bites" that can be purchased for tasting. Grilling starts at 11am and tasting begins at 11:30am. The blind tasting by local chefs and restaurant owners will be done between 2:30 & 3:30pm. Winners will be announced at 3:45pm. Enter your team for either the residential or business category (entry fee: $25 residential & $50 business). All grilling will be done on charcoal grills. Live music by Kenny Rose. An elite three burner outdoor griddle will be raffled off (tickets $10 each or 12 for $100). The Rotary Club of Rotonda is presenting this event to raise funds for their sponsored local charities. For more information and to register, go to burgerfestinparadise.com. For questions, email [email protected] or call Janet Shawen at 941•882•2398.
Holiday Sarasota Tours Announced
Discover Sarasota Tours offers 16 different tours running daily in an air-conditioned trolley or van. Holiday tours for Halloween (The BooMobile and Haunted Sarasota) and Christmas (Christmas Carol Trolley: Letters To Santa) run nightly in October and December, and sell out in advance. The BooMobile is a 45-minute musical adventure for kids ages 3+. Haunted Sarasota is a 90-minute nightime tour with stories about famous murders, a visit to spirited buildings, and an exploration of unsolved crimes. Christmas Carol Trolley is a 90-minute holiday tour for the whole family with a carol sing-along, holiday stories, jokes & trivia, and a tour of Sarasota's downtown neighborhood lights. Daytime sightseeing tour themes include Art, History, Amish, City, Circus, and Architecture themes, and nighttime musical shows on wheels include Murder Mystery Trolley: Who Killed the Circus Queen, and Sunset Cabaret, a music and craft beer tour. For more information and ticket purchase, visit DiscoverSarasotaTours.com or call 941•260•9818. Discover Sarasota Tours is located at 1826 Fourth Street, Sarasota.
Got Stuff to Sell?
Save the date! Englewood's Fall Community Garage Sale is set for Saturday, November 18, 8am to 1pm, at Englewood Sports Complex, 1300 S. River Road. If you would like to make some money & let your no-longer wanted items become someone's new treasures, sign up for a space at the sale. Vendor registration opens is now open. Indoor spaces are $15 (includes 8-foot table and one chair) and outdoor spaces are $10 (two parking spaces). Call 941•861•1980 or visit SarasotaCountyParks.com to register. For more information, call 941•861•5000.
Craft Fair Vendors Sought
Vendors and organizations are invited to apply for a spot at the Craft Fair at Gulf Cove United Methodist Church. The fair will be held on Saturday, November 11th. For more information, call 302•563•4479. GCUMC is located at 1100 McCall Road in the Gulf Cove area of Port Charlotte.
Caring & Sharing
OneBlood Blood Drives
The OneBlood "Big Red Bus" has scheduled the following blood drives in Englewood during October. Donors are requested to visit the website at oneblood.org to schedule an appointment. Please note that blood drives are subject to change at any time. Sunday, October 1, 10am to 4pm: Walmart, 2931 S. McCall Road. Wednesday, October 4, 11am to 5pm: Publix-Merchants Crossing, 1500 Placida Road. Friday, October 6, 9:30am-3:30pm: Centennial Bank, 1450 Placida Road. Tuesday, October 10, 10am to 4pm: Bealls, 1500 Placida Road. Saturday, October 14, 9am to 3pm: Symbiont Service Corp., 4372 N. Access Road. Wednesday, October 18, 9am to 3pm: Rotary Club of Englewood Sunset, 2400 S. McCall Road. Sunday, October 22, 9am to 1pm: Englewood Methodist Church, 700 E. Dearborn Street. Saturday, October 28, 10am to 4pm: Bealls Outlet, 425 S. Indiana Avenue. Sunday, October 29, 10am to 3:30pm: Publix-Merchants Crossing, 1500 Placida Road. Monday, October 30, 10am to 4pm: Bealls Outlet, 425 S. Indiana Avenue.
#Women Build Barbie
Ladies, sign up now for the Women's Build for South Sarasota County Habitat for Humanity. Women Build is an opportunity to come work alongside other volunteers, Habitat partner families, and staff as you build a home that will be purchased with an affordable mortgage by an income-qualified family. The #WomenBuild Barbie dates are Sunday-Saturday, October 22 through 28, and you can register at habitatsouthsarasota.org. For questions, call 941•493•6606.
Food for the Troops Drive
Englewood Bank & Trust is serving as a collection point for the Rotary Club of Englewood's Food for the Troops Drive. Customers and residents in the Englewood area are encouraged to bring nonperishable food and personal care items to any of the following Englewood Bank & Trust offices now through Monday, October 23: Cape Haze office, 8725 Placida Road #10; Gulf Cove office, 12651 S. McCall Road, and Boca Grande office, 301 Park Avenue. Lists of needed items are posted in the bank lobbies. For questions, call 941•475•6771. 
---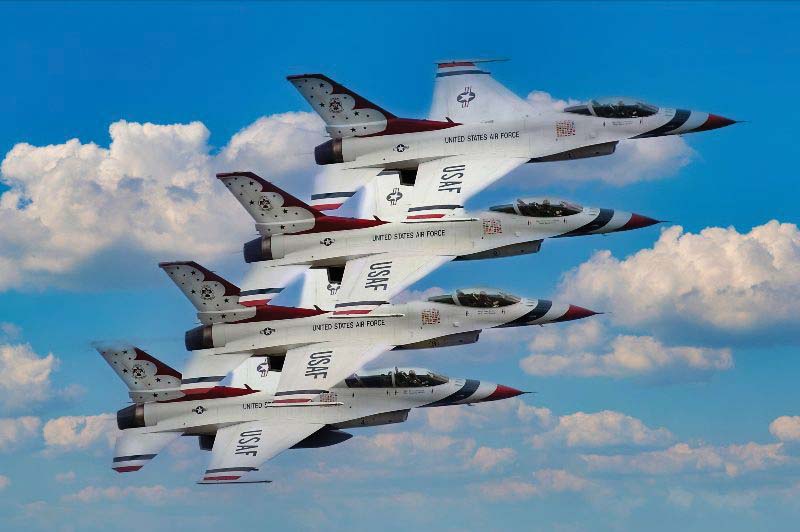 The Florida International Air Show returns to the Punta Gorda Airport on Saturday & Sunday, November 4 & 5. Performers include the USAF Thunderbirds, the SOCOM Para-Commandos, Patty Wagstaff, Extreme Flight, Redline Airshows, Scott Farnsworth, and the Racers Jet Team. There will also be interactive simulators, food trucks, static display, and kids zone. Air show announcer will be Matt Jolley, a national Edward R. Murrow Award-winning feature reporter & broadcaster. Gates open at 9am and the show begins at noon. One day general admission is $15 to $45 and preferred seating is $40-$75. Tickets are now on sale at floridaairshow.com. The USAF Thunderbirds are shown here.
---
New Human Trafficking App
Hope Fleet, a nonprofit humanitarian organization based in Sarasota, announces the official launch of its anti-human trafficking reporting app, "Hope Watch". This powerful and user-friendly mobile application empowers individuals to become vigilant and take a stand against modern slavery that still exists today. Hope Watch is a safe, secure, and anonymous platform available for both Android and Apple devices. It offers an easy way for concerned individuals to report suspected human trafficking activities within their communities. By partnering with the anti-human trafficking response organization, Lantern Rescue, Hope Fleet ensures that every report submitted through Hope Watch is met with immediate and effective action. Lantern Rescue's highly trained responders and a network of trusted organizations and agencies collaborate to swiftly rescue victims and bring traffickers to justice. Learn more about Hope Fleet at hopefleet.org.
Sports
Pete Mason Memorial Golf Tournament
The Englewood YMCA invites you to join them on Saturday, September 30 at Myakka Pines Golf Club, 2550 S. River Road, for the 17th Annual Pete Mason Memorial Golf Tournament. The tournament is a scramble format with a shotgun start at 8:30am. Your ticket price covers 18 holes of golf with a cart and sit-down awards luncheon. There will also be contests, raffles, and more. Tickets are $125 per golfer and may be purchased online at bit.ly/3QRrVmP. Funds raised at this event are dedicated to providing scholarship assistance for children, families, and seniors and expanding YMCA programming and services for the Englewood community. 
Senior Games Schedule
Registration for the Charlotte County "Fit for Life" Senior Games is continuing for the competition in October. Events will take place at parks & recreation centers throughout the county. Games are sanctioned by the Florida Sports Foundation and serve as a qualifier for the Florida Senior Games State Championships. Event schedule: October 1 – Racewalk at South County Regional Park. October 3 – Bag Toss at Centennial Park Rec Center. October 5 – Basketball (shooting) at Harold Avenue Regional Park. October 7 – Swimming at Centennial Park pool. October 8 – Disc Golf at Centennial Park. October 10 - Table Tennis at Harold Avenue Regional Park. October 12 - Tennis (singles) at Tringali Park. October 13 – Tennis (doubles) at Tringali Park. October 14 – Tennis (mixed doubles) Tringali Park. October 20 – Softball Homerun Derby at Centennial Park. October 21 – Pickleball (doubles) at South County Regional Park. October 22 – Pickleball (mixed doubles) at South County Regional Park. October 24 – Golf at Rotonda West Country Club. October 28 – Track & Field at Charlotte High School. October 29 – RC Sailing at South County Regional Park. To register online visit CharlotteCountyFL.gov/seniorgames. Walk-in registration is available in Englewood at Ann & Chuck Dever Regional Park pool, 7001 San Casa Drive. For questions, call 941•613•3230.
Tour de North Port
Registration is now open for the 12th annual Tour de North Port, aka "It's the Green Pumpkin", set for Sunday, October 22nd. This fun, organized, on-road scenic bicycle ride, with routes of 15, 35, or 65 miles, travels through some of North Port's most beautiful, natural settings, featuring the Florida pine flatwoods and the parks that border the Myakkahatchee Creek, with each route having its own color-coded road markings. The Tour de North Port is NOT a race. Breakfast is donated by FirstWatch, a catered lunch (Savor Catering) will be provided, delicious desserts, fully stocked rest stops with homemade snacks, full mobile Support and Gear (SAG) provided by Louie's Bicycle and Real Bikes Venice. Pre-registration online by Friday, October 20 is $50; day-of $55. Groups of six or more, $45. The first 400 to register will receive a free ride t-shirt and goodie bag. Doors open at 7am for check-in and breakfast, with group starts beginning at 8am from Imagine School, 2757 Sycamore St. North Port. Early packet pickup, check-in, and registration available on Saturday, October 21 from 10am-noon during the "North Port Food and Fest" at the City Center Green (4970 City Center Blvd., North Port). Register online and more information at peoplefortrees.com. Questions, contact Alice White at 941•468•2486 or [email protected].
SW Florida Honor Flight Golf Tournament
Play a round of golf and support SW Florida Honor Flight on Saturday, October 28 at Riverwood Golf Club, 4100 Riverwood Drive, Pt. Charlotte. All proceeds will be used to transport veterans to Washington DC on an upcoming SW Florida Honor Flight. Check-in time is 7:30am. Continental breakfast at 8am. Tee time is 8:30am. Cost: $125 per player. Ticket includes breakfast, lunch and two drink tickets. Attending will be fan favorite world-long-drive pro golfer Rob Tiettmeyer. Register at swflhonorflight.org. For questions, contact Hank at 941•268•3925.