Lee Procuk (nee Adams)
August 16, 2023 at 3:29 p.m.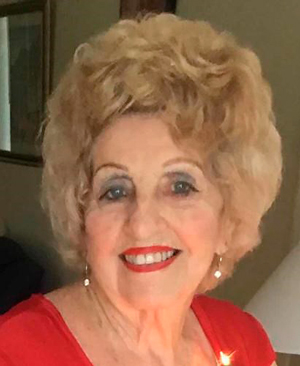 It is with tender sympathy that we share our Lee Procuk (nee Adams) passed peacefully in the arms of her loving husband, Steve, while surrounded by family, at the age of 94. 
She will be dearly missed by her husband, Steve; children Mike (Beverly) Procuk, Jim (Rhoda) Procuk and Patti (Mark) Gonzales; siblings Lin (Hank) Peckman and Nena (Bill) Benhoff. She will be lovingly remembered by her biggest fan club of 7 grandchildren and 15 great grandchildren.
Lee was preceded in death by her Parents, Robert and Doris Adams; and siblings Robert and Marlene.
Lee was born in Zanesville, Ohio to Robert and Doris, and met the love of her life, Steve, at the age of 19. Lee and Steve were happily married for an incredible 72 and a half years! Their love story was nothing short of magic; full of adventure, laughter, tackling hard times together, holding hands, and stealing kisses any chance they could. If he had a headache, she had the cure! Lee and Steve followed their dreams and moved from Ohio to Englewood, Florida in 1989 where they collected seashells, made lifelong friends and truly "Lived Their Dream". At the ripe young age of 65, Lee took up tap dancing and became a member of the Happy Tappers of Southwest Florida. It was clear that Lee was made to perform as she provided smiles to young and old with showstopping performances. Around Englewood and beyond, Lee was also known as "The Bunny Lady", dressing up the yard with thousands of Easter decorations in addition to herself! Lee lit up the room with lights in her hair, twinkles in her blue eyes and love in her heart always. Her friends and family find comfort in the endless love she gave us and knowing that her angel wings surely have lights and sequins. When you hear "Sweet Caroline", Lee will be adding the "Bah-Bah-Bah" along with you. A celebration of "A Life Well Lived" will be held on a later date.