Stevens The Florist South, Inc. celebrates grand re-opening
November 3, 2023 at 2:38 p.m.
---
---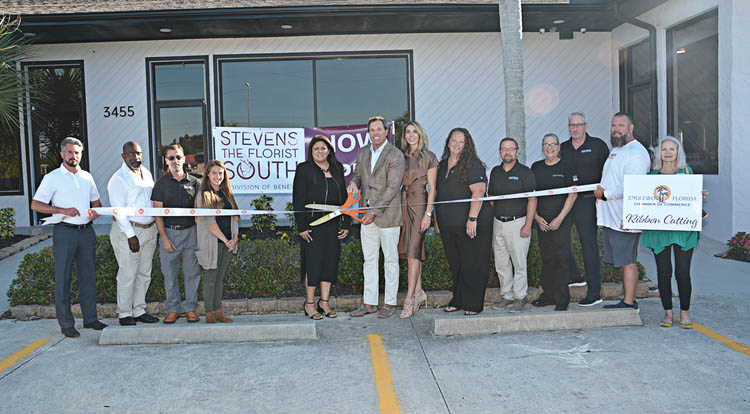 Stevens The Florist South, Inc. celebrated their grand re-opening with a ribbon-cutting ceremony on October 17th. Like so many other businesses, the building sustained major damage from Hurricane Ian, but now they are open again following the completion of repairs. The floral shop was formerly owned by Linda Stevens who sold in 2021 to Beneva Flowers of Sarasota. As part of an expansion plan, Beneva Flowers re-branded as Beneva and now has three locations: one in Sarasota, Brandon, and Stevens The Florist South, which, is located at 3455 S. Access Road and can be reached at 941•475•6702. They offer fresh flowers, silk arrangements, houseplants and dish gardens, gifts such as plush stuffed animals, Capri Blue candles, gourmet chocolates & cookies, and more for all occasions. Stevens The Florist South, through Beneva Plantscapes, also creates & maintains living plant walls. Visit them online at stevensthefloristsouth.com. Store hours are Monday through Friday, 9am to 4pm, and Saturday, 9am to 2pm. Pictured here at the ribbon-cutting are (l-r): Doug Izzo; David "Yogi" Harris; Randy Steele; Ashley Bertemu, store manager; Sage Patel, store COO; David Shuel, owner; Leah Morris; Mandi Rutter, store CAO; Bo Williams; Barbara Ballard; Vince Montasano; Shane Whitmore; and Darla Mapes.