Amanda's Picks
September 8, 2023 at 1:43 p.m.
---
---
Distractavision
I don't know about you, but I am never more thankful for my excessive cable bill than during a hurricane warning. All that waiting and worrying is so much easier when you can watch hundreds of hours of TV. I have personally coined a term for watching as much TV as possible to avoid thinking about impending disaster – Distractavision. 
Now, one can go about distractavisioning in many different ways. The most important thing is that you do not feel guilty about what you're watching. Ginny and Georgia, the Gameshow Network, a replay of the 2012 Super Bowl, Brady Bunch reruns, as long as it keeps you from watching the Weather Channel, it's all good. 
Personally, I require a lot of distracting during severe weather, and my demands are few. No reality TV, no serious drama, and nothing with Kirsten Dunst as she irritates me. 
This hurricane was especially challenging as the writers' and actors' strikes meant much less original content was available, but with 795 channels, that still means there is a lot of unwatched programming.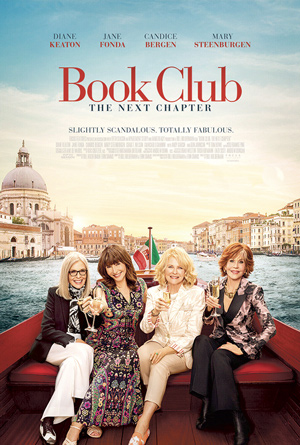 Book Club: The Next Chapter, checked all my distractavision boxes. Here's the description: "Four best friends take their book club to Italy for the fun girls trip they never had. When things go off the rails and secrets are revealed, their relaxing vacation turns into a once-in-a-lifetime cross-country adventure." Yes, please, there is zero chance this movie will challenge or upset me and there's a 99% chance there will not be a hurricane. 
Indeed, Book Club: The Next Chapter (Peacock) is escapism at its frothiest and gets bonus points for its "I want to go to there" setting. Diane Keaton, Candace Bergen, Mary Steenburgen and Jane Fonda wear tastefully expensive clothes as they deal with relationship and health issues. One is a workaholic, one has a sick husband, one is dating Don Johnson and one is Diane Keaton. Do I remember anything that happened? No. Did I covet Jane Fonda's travel wardrobe? Yes. Did they actually read a book? I don't think so. Was I worrying about impending disaster while I was watching this movie? Not at all.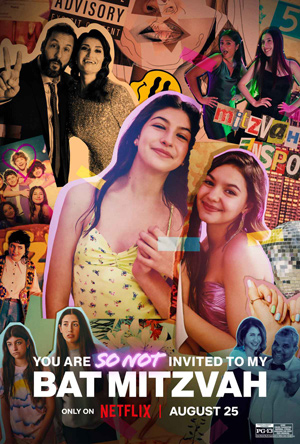 Adam Sandler's latest Netflix venture, You Are So Not Invited To My Bat Mitzvah, premiered just in time for Idalia. Sandler, who is legendary for continuously hiring friends (hello Rob Schneider) for his movies, goes one step further here and casts his wife and both his daughters in prominent roles. 
The good news is that everyone nails it. Best friends Stacy (Sunny Sandler) and Lydia (Samantha Lorraine) are preparing for their bat mitzvahs, the Jewish ritual that ushers a girl (Bar for boy) into adulthood. Since Stacy and Lydia's families are well-to-do, money is almost no object, although Stacy's mother Bree (Idina Menzel) declares "No Ariana Grande" and Stacy's dad (Adam Sandler), offers the occasional reality check. 
There is a lot of Jewish humor and references in YASNITMBM, and being Jewish I got all of them. But you don't have to be Jewish to enjoy and appreciate this movie. It's smart, funny and sweet, with a screenplay by Fiona Rosenbloom, who wrote the young adult novel of the same name, and Alison Peck, that elevates its basic coming-of-age plotline. 
You may want to slam Sandler for casting his kids, but Sunny Sandler delivers a winning and engaging lead performance and her real-life older sister Sadie is respectably snarky and deadpan as her movie sister. Menzel doesn't really have enough to do as most moms in these films, and Sandler is very good in a supporting role as the almost-cool dad on the sidelines. His big scene when he confronts his daughter for bad behavior in the temple is hysterical. 
The breakout performance in YASNITMBM might be from current Saturday Night Live cast member Sarah Sherman as Stacie's hip and knowing rabbi. Sherman has an offbeat energy and impeccable comedic timing and makes the most of her screen time. She left me wanting a Rabbi Rebecca movie. 
This is only the second film for Director Sammi Cohen, and the young filmmaker keeps things moving and makes sure that we stay connected to these characters even when they make bad choices. 
According to the Rotten Tomatoes website, You Are So Not Invited To My Bat Mitzvah, is the highest-rated film in Sandler's career. While I do take issue with that, it is better than most films of this genre, and world-class distractavision.